Back to Events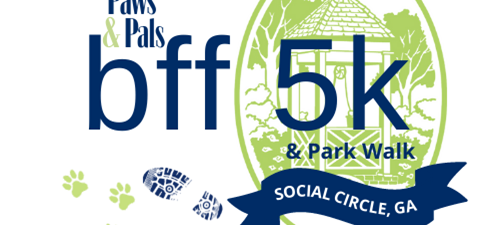 Paws & Pals BFF 5K and Park walk
Registration- 7:00a.m.
Park Walk- 8:00a.m
5K starts at 8:45am.
Saturday, October 2, 2021
Event Details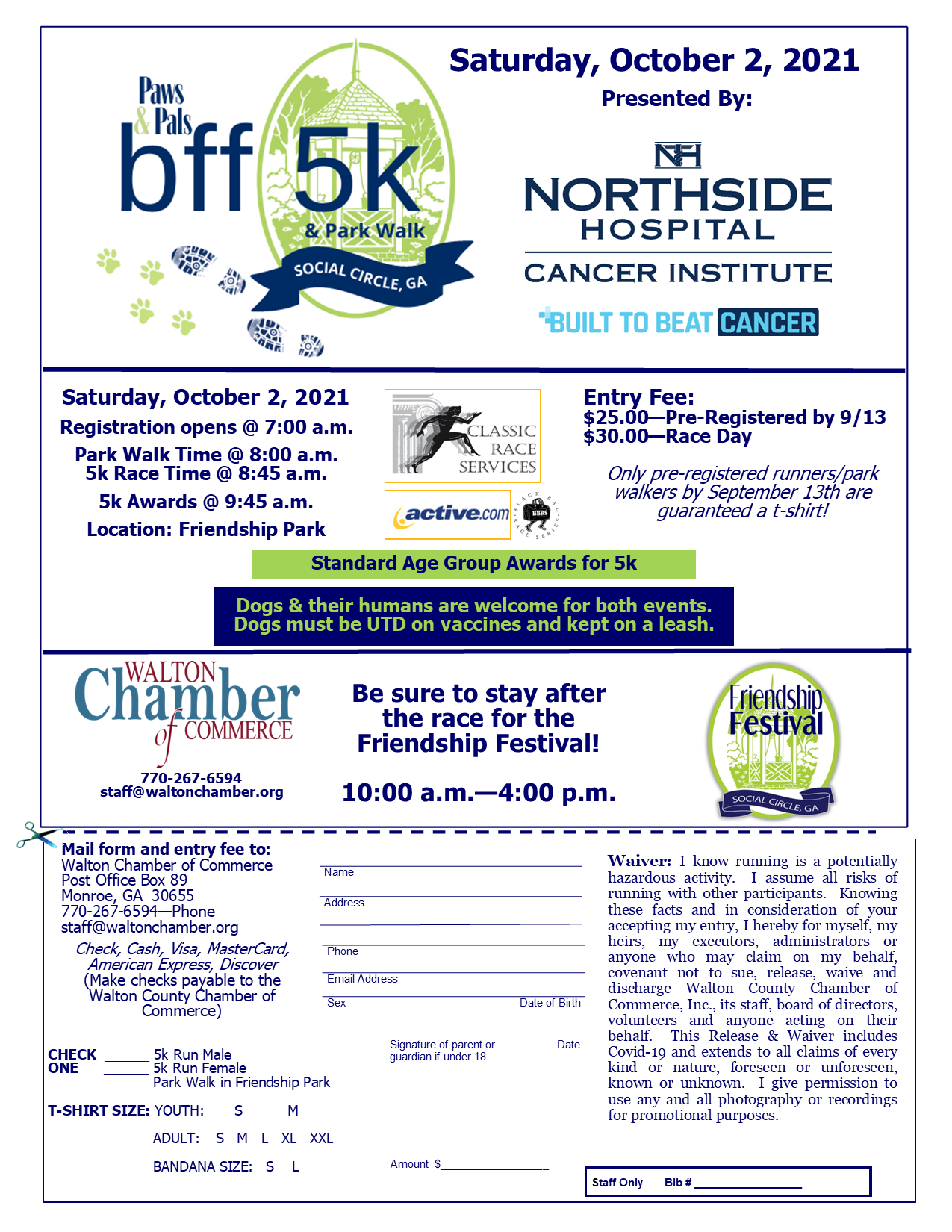 For More Information:
Kerie Rowe
Director of Fun Experiences
Walton County Chamber of Commerce
(770)267-6594
Register Here on Active or Download the form and mail it to 207 North Wayne Street, Monroe
Come out to our Pawls & Pals BBF 5k! Bring your four legged BFF or your two legged BFF! The race begins and ends at Friendship Park. All runners, joggers, and walkers are welcome!
COVID-19 Safety Procedures for this event:
Hand Sanitizer will be available
Masks are not required but are encouraged and we will have paper masks available.
Because our race is small, we will not have staggered start times. We will encourage social distancing at registration, startline and following the race.
We will not hold an awards ceremony Awards will be given as you complete the race.
COVID-19 Statement
Exposure to COVID019 is an inherent risk in any public location where people are present; we cannot guarantee you will not be exposed during your visit. The CDC advises that older adults and people of any age who have serious underlying medial conditions might be at higher risk for severe illness from Coronavirus. Guests should evaluate their own risk in determining whether to attend. People who show no symptoms can spread Coronavirus if they are infected, and any interaction with the public poses an elevated risk of being exposed to Coronavirus. By coming to the event, you acknowledge and agree that you assume these inherent risks associated with attendance. Guests are asked not to attend if they are running a fever, have COVID-19 symptoms, or anyone in the household has shown symptoms of or has COVID-19. We also ask that you not attend if you are awaiting test results or have not completed your 14 day quarantine. Social Distancing will be encouraged by anyone attending. We will not require that you wear a mask, yet we encourage you to wear a mask.